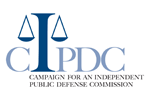 Editorials and Op-Eds Across the State Urge Public Defense Reform
EDITORIALS:
"New York State has a chance to repair a broken public legal defense system. . . . [W]ealthy defendants with private attorneys are not the only individuals entitled to due process. . . . Poor people who stand accused pay the price for an inadequate or incompetent defense. With the poverty rates among Latinos and African-Americans, it is these same communities that are disproportionately affected by a broken system. . . . A bill in the Assembly would . . . create a commission that would eventually oversee and administer public defense services in the state [and establish] standards that meet constitutional mandates and that are fiscally responsible. . . . We urge the Assembly to approve this bill and the Senate to move quickly, if and when it gets its act together."

"Problems with indigent defense in New York state include excessive caseloads, inadequate support services, lack of training, minimal client contact and investigation, widespread denial of the right to counsel and a lack of eligibility standards. . . . Kaye and others call for a complete overhaul of the state's public defense system, with an independent, statewide commission setting standards and eventually taking over from counties."

"[The Kaye Commission] sensibly called for a state takeover of public defense services under the direction of an independent commission, which would enforce uniform standards from county to county. Governor Paterson has voiced support for the idea. Of course, money this year is tight. But one step that can easily be taken this session would be to create the commission and have a small staff begin working on a detailed plan for overhauling the system."

"Legislation initiated in the Assembly would create an independent public defender commission to dissect the system's inadequacies. It would report to the legislature what it would take to ensure an adequate, independent legal defense, what it would cost and how to get there from here. It's a journey that officials need to take."

"The strong suspicion is that many [individuals unable to afford counsel] are being allowed or even urged to plead guilty to crimes they never committed just to move their cases along. Only broad oversight can correct this misappropriation of justice. . . . A statewide, impartial commission can also make sure politics is kept out of the system. . . . New York cannot call itself a compassionate state if it continues to allow its most vulnerable people to be treated with utter absence of compassion."

"As envisioned under the Assembly measure . . . , the panel would look at what improvements are needed, what they would cost and how they would be funded. [T]he commission should consider all options and funding requirements. That would serve the best interest of counties, while ensuring a uniform standard of legal representation through New York. And it would serve the principle of justice for all."

"When it comes to ensuring adequate legal representation for poor criminal defendants, state lawmakers should get behind legislation that would create a statewide public defender's office. A compromise proposal currently being discussed in Albany could go far to address concerns raised in a report two years ago by a commission convened by state Chief Judge Judith Kaye."
OP-EDS AND COLUMNS:
"As a lawyer, I know that a right is only meaningful if it can be exercised effectively. That is why I am adding my voice to those calling on our state leaders to finally reform our broken system of public defense services . . . by creating an independent public defense commission . . . . Even well-intentioned lawyers such as those who work for the Legal Aid Society in New York City must struggle with crushing caseloads and the lack of resources . . . . That is why Legal Aid -- along with the state bar association, civic groups, religious leaders, the state legislature's minority caucus and so many others -- supports creating the independent commission . . . . It is incumbent upon those of us committed to equal justice to urge our leaders not to wait any longer . . . ."

"All across New York State, [poor] defendants arrive at the bar of justice with legal assistance that is rushed, cursory, inadequate or nonexistent - a situation that is blatantly unconstitutional . . . . New York desperately needs a politically independent, properly funded public defender commission - a statewide agency that would provide the funding, training and enforceable legal standards currently absent from so many . . . offices . . . . Justice demands that we stop looking away."

". . . The public defenders, hired and paid by the counties in our state and assigned far too many cases to give any one defendant the strict attention his or her case demands, will do what they can . . . . [I]n 2006, a Campaign for an Independent Commission for Public Defense was established to work toward legislation establishing a statewide body of oversight of justice for the indigent . . . . Unfortunately, providing adequate legal representation for the poor has not, in the past, been an A-list priority . . . . As we in this country pride ourselves on living equitably under a rule of law, we need remind ourselves that the health of our democracy depends upon justice for all."

"In part, justice attained means that a defendant has competent legal counsel for representation. . . . In New York state, despite our abiding commitment to equal justice under the law, our system of public defense at times falls short . . . . While there are fiscal implications to changing the present system, which are not insubstantial in these hard economic times, nevertheless, the greater cost, long-term, will fall on society if the change is not made. Allowing the present system to continue will jeopardize the attainment of justice in future criminal cases, to the detriment of . . . the defendant, the victim, the police and the courts . . . . I hope the state Legislature gives extensive debate, consideration, and acts upon those reforms recommended by the Kaye Commission."

"The Kaye Commission outlined a path to reform by creating an Independent Public Defense Commission to carry out a state takeover of the system . . . . For reasons of justice and fiscal prudence, we canŐt turn back. . . . While county executives are concerned that the state will simply raise standards and leave local taxpayers to pick up the added costs, legislators are discussing capping county spending . . . . Black, Puerto Rican, Hispanic and Asian legislative caucus members recently wrote . . . that public defense problems create a 'ripple effect' . . . affect[ing] entire communities."

"Even in these tough fiscal times, creating a public defense commission makes sense . . . . [As the] Caucus recently wrote to Gov. David Paterson and legislative leaders, 'Deficient public defense services lead to expensive and discriminatory overuse of prisons and the criminal justice system . . . .' [It] is time for New York to begin living up to its self-professed commitment to equal justice."

[Translation] "[The public defense system in New York has been found to be] 'an ongoing crisis' that urgently needs reform . . . . As a lawyer and president-elect of the Puerto Rican Bar Association, I know that the unfairness of the current system falls disproportionately on minority defendants, especially Latinos. Many do not meet with their lawyers until just before their hearings, where they are pressed to plead guilty, which can lead to deportation, before they can argue their innocence. . . . Creating the Independent Public Defense Commission will give meaning to the right of every defendant to consult with a lawyer, as recognized 46 years ago by the U.S. Supreme Court in Gideon v. Wainwright."

"As the new chairs of the Senate Committees on Codes and Corrections, we are committed at long last to reform our system of public defense for those who cannot afford a private attorney . . . . [T]here is understandable concern whether the state can afford to pick up the cost, though any pickup would offset local costs, which is in line with Gov. Paterson's call for local tax relief . . . . We can begin at a minimal cost of $3 million to create the Independent Public Defense Commission to start planning and assess what the real cost is. That money could come from a special state Indigent Legal Services Fund . . . . This would have no impact on the general fund budget gap we are now struggling to close."

"A class action filed against the state of New York seeking to declare unconstitutional our public legal defense system for clients unable to afford a private lawyer can be viewed as an opportunity to repair, at long last, our woefully failing county-based system. . . . With the . . . state and counties facing the prospect of judicial sanction, our elected decision-makers should be true to New York's long and proud history of protecting individual rights by moving to create the Independent Public Defense Commission. . . ."

"In New York, the path to fixing the public defense crisis has been laid out by the Kaye Commission. . . . Albany's decision makers should look at the lawsuit filed against them as an opportunity to do what they already know to be the right thing - honor our state's commitment to equal justice by creating an Independent Public Defense Commission."

"The current system is so fundamentally flawed that it warrants a judicial declaration of unconstitutionality. . . . Albany decision makers should now lead and embrace the challenge and opportunity posed by the lawsuit and do what their own independent experience and good judgment must show them to be the right thing: Create a statewide Independent Public Defense Commission and honor our state's pre-eminent and treasured commitment to equal justice."

"[In Montana], the prospect of losing [a lawsuit] raised the specter of massive disruption to the orderly processing of criminal cases. . . . It took vision and courage for. . . a conservative Republican. . . to embrace both the challenge and the opportunity posed by the ACLU lawsuit. . . . Working across a partisan and ideological divide, he joined with. . . a Democrat. . . , to lead a process that yielded an independent Montana Public Defender Commission. . . .. For clients, the result has been access to competent counsel who address their needs in a timely, professional manner. For the state, we have replaced an inadequate, unconstitutional system with one that represents the rights of our poorest citizens, and is no more costly to taxpayers than its predecessor."